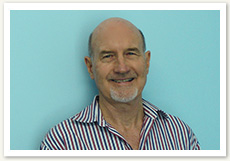 Peter's Books
"The Quiet Man"
Australian Story,Transcript - 01/04/2002, Producer: Belinda Hawkins, Researcher: Jo Bevan
» read it now!
Peter's Sculptures
Dip.Phty., FASMF Sports Physiotherapy
Peter is a physiotherapist with 50 years practical experience in the field of sporting injuries. He has been official physiotherapist for many international sporting teams, including being the inaugural physiotherapist for Queensland Reds, the Wallabies and Kangaroos, and is a Foundation Member of the National Rugby League Coaching Panel. A sportsman himself, he is a Foundation Fellow of the Australian Sports Medicine Foundation. He has travelled extensively in the interests of Sports Medicine, and has written numerous articles for Physiotherapy and Sports Medicine journals, as well as designing and marketing a video exercise program, "Medirobics".

He has released his fifth medical book
(i) Pelvic Pain: A musculoskeletal approach to treatment.
(ii) So, you've got pelvic Pain....it can be managed.

Peter's other interests include military history, being a freelance writer for some years. He has studied classical sculpture and has works displayed in many prominent institutions and private collections. In 1997, he became founder and convenor of the Brisbane Prostate Cancer Support Group (more information in Men's Health).

In 2002 Peter was appointed as a Member of the General Division of the Order of Australia (AM). For his achievements in sport, he was awarded the Commemorative 2000 Australian Sports Medal.

In 2020, Peter was awarded the Senior Australian of the Year for Queensland.

Peter is married to Dimity, a Speech Pathologist. They have two adult children, Melissa and Roderick.


Peter's Books